It turns out that the process was quite a bit easier — and speedier! — than I expected.
For those who have never tried a pumpkin roll, you basically bake a very thin sheetcake on parchment paper.  Then as soon as it is pulled out of the oven, you invert it onto a towel (I just used a regular dishtowel!) that has been generously sprinkled with powdered sugar.  I repeat — generously.  You don't want the cake to stick to the towel.  That's bad news bears.  Then you simply roll the cake into a scroll, and let it cool in that position.  Then when you're ready to add the heavenly frosting, gently unroll the cake and slather it on.  Then roll it back up and pop it in the fridge until you're ready to cut it.
For those who want a nice clean cut, I highly recommend cutting this the way I cut cinnamon rolls — with dental floss.  Simply place a piece of floss under the cake where you want to cut, wrap it around until the ends meet, then give a quick tug and it will slice the cake without making it flat on the bottom.  Voila!
I pretty much stuck to the classic Libby's recipe, with a few modifications in the spices, but it was so pretty that I had to share it with you.  Happy pumpkin rolling!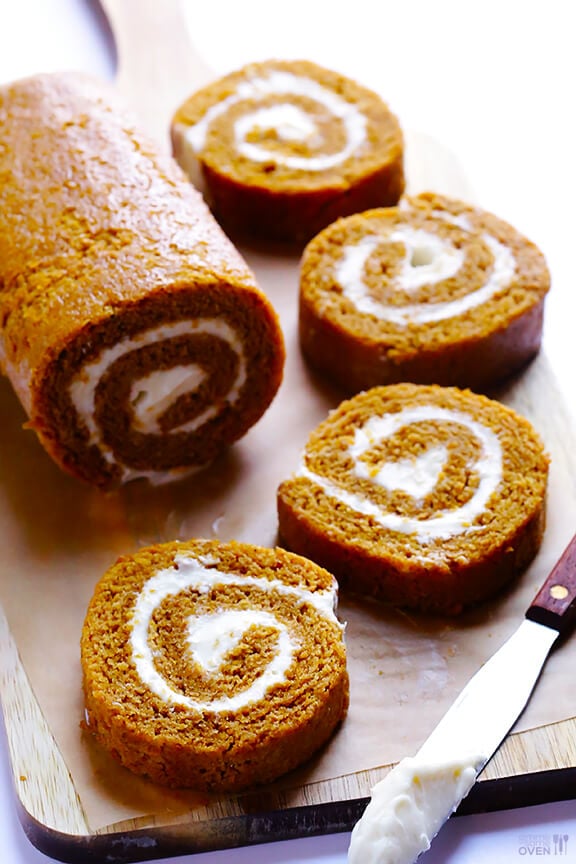 PUMPKIN ROLL
A classic pumpkin roll is always a crowd favorite!
INGREDIENTS:
PUMPKIN CAKE INGREDIENTS:
¼ cup powdered sugar (to sprinkle on towel)
¾ cup all-purpose flour
½ tsp. baking powder
½ tsp. baking soda
1 tsp. ground cinnamon
½ tsp. ground ginger
¼ tsp. ground nutmeg
¼ tsp. ground cloves
¼ teaspoon salt
3 large eggs
1 tsp. vanilla extract
1 cup granulated sugar
2/3 cup pumpkin puree
CREAM CHEESE FILLING INGREDIENTS:
1 (8 oz.) brick cream cheese, room temperature
1 cup powdered sugar, sifted
6 Tbsp. butter, softened
1 tsp. vanilla extract
DIRECTIONS:
TO MAKE THE PUMPKIN ROLL:
Preheat oven to 375° F. Line a 15 x 10-inch jelly-roll pan with parchment paper. Grease paper with cooking spray. Lay out a thin, cotton kitchen towel so that it is flat, then sprinkle it generously with powdered sugar.
Whisk together flour, baking powder, baking soda, cinnamon, ginger, nutmeg, cloves and salt in medium bowl until combined.
In a large bowl using an electric mixer, beat eggs and granulated sugar on medium speed until thick. Add in vanilla and pumpkin, and beat until combined. Stir in flour mixture until just combined. Spread evenly into prepared pan.
Bake for 13 to 15 minutes or until top of cake springs back when touched. Immediately loosen and turn cake onto prepared towel. Carefully peel off paper. Roll up cake and towel together, starting with narrow end. Cool on wire rack.
When ready to add filling, carefully unroll cake and remove the towel. Spread cream cheese mixture evenly over cake. Immediately re-roll cake. Wrap in plastic wrap and refrigerate at least one hour. Slice to serve.
TO MAKE THE CREAM CHEESE FILLING:
In a large bowl using an electric mixer, beat cream cheese, powdered sugar, butter and vanilla extract until smooth. If the filling is too thin, add more powdered sugar. If it is too thick, add a half teaspoon or two of water.
http://www.gimmesomeoven.com/pumpkin-roll-recipe/
H